Our specialised team has over 50 years experience in the recruitment industry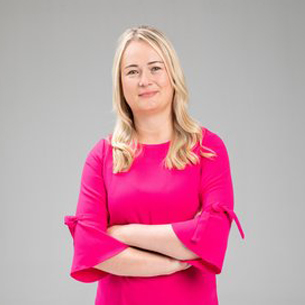 Sophie Milliken, Managing Director
Prior to founding Smart Resourcing Solutions, Sophie was responsible for graduate recruitment at retail giant The John Lewis Partnership. Sophie was an inaugural member of the Association of Graduate Recruiters Advisory Council (now Institute of Student Employers) and is a Chartered Fellow of the Chartered Institute Personnel Development. She has an MSc in HR Management, a Level 7 Certificate in Leadership Coaching and Mentoring and is Level A&B accredited. Sophie is an active supporter of Women in Business and is a Board Trustee of Age UK Northumberland.
Rachael Cook, Operations Manager
Rachael is Smart Resourcing Solutions Operations Manager, supporting the team and clients with a variety administrative and finance activities and being the first point of contact for customer enquiries.
She works with our amazing clients to deliver assessment centre simulations and is known for her outstanding organisational skills - particularly handy for our large scale assessment simulation programmes where she delivers a first class end to end experience for our clients and students.
Doreen Owen, University Relationships Manager
Doreen's role at Smart Resourcing Solutions is to ensure that all clients receive an efficient and appropriate service that meets their needs. Doreen is experienced in all aspects of graduate recruitment, including screening of application forms, facilitating assessment centres and conducting interviews via telephone, video or face to face. Doreen is an Associate Member of the Chartered Institute Personnel Development and is committed to delivering a first class customer experience and is particularly skilled at ensuring students get the most out the assessment centre days.
Helen Liddle, University Partnerships Manager
Helen supports universities to enhance the employability skills of students. She helps to tailor the SRS approach to meet their individual needs and ultimately improve their Graduate Outcomes.
During her 12 years as a leader within The John Lewis Partnership, Helen gained 'The Chairman's Award for Excellence' for her work around learning and development. She is also an experienced recruiter, assessor and facilitator who really values opportunities to help people achieve their potential.
Gary Argent, Associate Consultant
Gary supports Smart Resourcing Solutions with our work with universities. He has worked in the graduate recruitment industry since May 2000 and led the Graduate Team at Logica UK Ltd (now part of CGI). Having spent two years on the board of the Association of Graduate Recruiters, Gary became their first Business Operations Manager.
In 2011, Gary was appointed as Director of Careers at City University, working with a team of 34 Careers Guidance Representatives to create an innovative service that encouraged wider participation.
Tina Renshaw, Occupational Psychologist
Tina supports Smart Resourcing Solutions as our Occupational Psychologist, testing and validating new materials to ensure they are fit for purpose.
Tina is passionate about developing a real and sustainable difference and enjoys the challenge of developing solutions and facilitating outcomes that meet the needs of clients.
Tina is a Chartered Psychologist, HPC registered Occupational Psychologist, Chartered Fellow of the CIPD, Associate Fellow of the BPS and a qualified NLP Practitioner. She is registered to use a wide range of psychometric measures.
Associate Team
We work with a group of amazing associates who bring a wealth of experience and enthusiasm to our projects. Our associates enjoy working with us as we provide plenty of information in advance of each assignment (when possible!), lots of tea and biscuits on-site and, importantly, we pay our associates promptly for their time.
If you are interested in becoming an associate, get in touch to explore opportunities.